Lancôme Miracle Cushion il rivoluzionario fondotinta
Si chiama 'Miracle Cushion' creato dalla Maison Lancôme, il primo fondotinta incapsulato in un cuscino! Ispirato alle donne asiatiche che sono quasi 'fanatiche' ed attente ad avere un incarnato perfetto, 'Miracle Cushion' combina la freschezza e luminosità di un fondotinta liquido e la praticità di uno compatto. Contiene un fattore di protezione 23/PA++ che protegge la pelle prevenendo la formazione di macchie cutanee causate dai raggi del sole.  La vera novità è la sua applicazione perché siete Voi Zaguline a scegliere la coprenza: ultra leggera, leggera e media. Basta utilizzare l'applicatore in dotazione, un dischetto antimicrobico che veicola la quantità di prodotto. 'Miracle Cushion' può essere usato come base trucco per avere un incarnato perfetto, come correttore delle imperfezioni o semplicemente come prodotto per ritoccare, durante la giornata, la zona T del viso. La sua formula è tutta nuova: olio di Pino per illuminare, gli oli di Ester e Glicerina per idratare la pelle e l'Adenosina dalle proprietà antirughe. Mie care, come sempre prima di scrivere una recensione, anche io l'ho provato e oltre ad essere impercettibile una volta applicato, posso dirvi che il mio viso è rimasto perfetto, senza imperfezioni, per più di 8 ore e l'effetto luminosità è ciò che ho apprezzato davvero in 'Miracle Cushion'. Io ve lo consiglio!
EN Its name is 'Miracle Cushion' created by Lancôme Maison, the first foundation encapsulated into a pillow!
Inspired to Asian women almost 'fanatic' and careful to have a perfect complexion, 'Miracle Cushion' combines the freshness and luminosity of a liquid foundation to the practice of a compact one. It contains a sunscreen protection of 23/PA++ that protects skin and prevents from the formation of sunspots.
The real news is its application because Zaguline, You decide its coverage level: ultra light, light or medium. It needs to use the applicator inside the box, a small, anti microbial disk that spreads the quantity of product you want. 'Miracle Cushion' can be used as normal foundation for having a perfect complexion, as concealer for imperfections or simply as a product to retouch – during the day – the T zone. Its formula is all new: the Pine oil to illuminate, the Ester and Glycerine oils to hydrate skin and the Adenosine by anti wrinkles properties.
My dear as always, before to write a review, I tried it and and besides to be impalpable once applied, I can tell you that my face was perfect, without any imperfections, for more than 8 hours and the glossy effect, in 'Miracle Cushion' is what I appreciated most. I really recommend it to you!
ES Se llama 'Miracle Cushion' creado desde la Maison Lancôme, la primera base de tinta encapsulada en una almohada!
Inspirado a las mujeres asiáticas casi 'fanáticas' y atentas para tener una tez perfecta, 'Miracle Cushion' combina la frescura y luminosidad de una base de tinta liquida y la comodidad de una compacta. Contiene un factor de protección 23/PA++ que protege la piel previniendo la formación de las manchas cutáneas causadas desde los rayos del sol.
La verdadera novedad es su aplicación porque sois Vosotras Zaguline a elegir su cobertura: ultra ligera, ligera o media. Hace falta utilizar el aplicador en dotación, un disquete antimicrobiano que difunde la cantidad correcta del producto.
'Miracle Cushion' puede ser utilizado como base de tinta para tener una tez perfecta, como corrector de las imperfecciones o simplemente como producto para retocar durante el día, la zona T de la cara. Su fórmula es toda nueva: aceite de Pino para iluminar, los aceites de Ester y Glicerina para hidratar y Adenosina desde las propiedades antiarrugas.
Mis queridas como siempre, antes de escribir una revisión, yo también lo he probado y además de ser imperceptible una vez aplicado, puedo os decir que mi cara se ha quedado perfecta, sin imperfecciones, para más de 8 horas y el efecto de luminosidad es lo que me gusto' de verdad en 'Miracle Cushion'. Yo lo os aconsejo!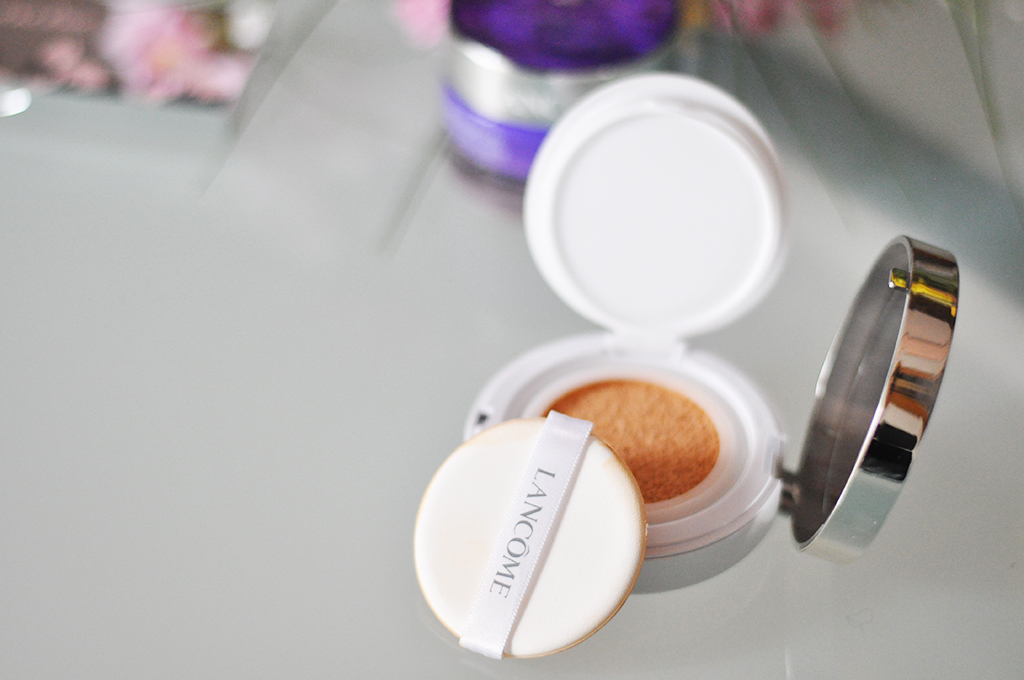 Have you seen the last collection for this winter? Under you'll find some links for you!:
                                            CHANEL MAKE UP AUTUNNO 2014: ETATS POETIQUES
                                                                    PUPA PARIS EXPERIENCE
                                                                  GIVENCHY TEINT COUTURE
                                                         GUERLAIN L'HOMME IDEAL E KISS KISS
                                                                       KIKO DARING GAME
                                                                    Follow my adventures
                                                    Follow me on Instagram => @zagufashion