Dior Kingdom of Colors
Si chiama 'Kingdom of Colors' la collezione trucco firmata Dior per la primavera 2015. Mood della collezione è il 'regno' in cui a governare sovrano è il colore protagonista assoluto per Christian Dior. La grande novità è senza ombra di dubbio la raffinata palette multiuso 'Kingdom of Colors eye, lip & face' la nostra alleata di bellezza che ci accompagnerà per tutta la giornata! Perché? Al suo interno mie care, c'è tutto l'occorrente per realizzare un trucco alla perfezione: una cipria opacizzante, un illuminante dal finish perlato, un blush corallo, quatto ombretti nei colori bianco, argento, menta e viola, un eyeliner nero, un gloss corallo e un rossetto fucsia! Le sue dimensioni sono adatte per stare in borsa e non dobbiamo preoccuparci di portare pennelli o altro in quanto troviamo anche quattro applicatori professionali! Dior propone anche le famose '5 Couleurs Couture Colors & Effect' in due combinazioni di colore: 'House of Greens' con i colori salmone, taupe, verde oliva, salvia, verde scuro e 'House of Pinks' con i colori champagne, rosa cipria, fucsia, marrone e prugna. Per completare il trucco degli occhi 5 nuovi matitoni khol, i 'Diorshow Khol Professional' per tracciare linee precise oppure creare uno smoky eyes professionale nei colori Pearly Silver, Smoky Black, Smoky Blue, Smoky Brown e Smoky Grey (sono favolosi e permettono di realizzare un trucco veloce dal risultato incredibilmente fashion!) A vestire le labbra ci sono i rossetti 'Rouge Baume' per colorarle e volumizzarle nei colori Palais, un nude e Cotillon un rosso corallo e gli 'Addict Gloss' per un effetto glossy inedito, abbiamo Fastes un bel albicocca e Mylord un rosa antico delicato. E… per le unghie non potevano mandare gli smalti 'Vernis Gel Shine & Long Wear' in due colori inediti dall'effetto gel: Lady, in delicato rosa cipria e Glory, un bel rosso corallo. Se volete dare un tocco originale alle vostre mani il 'Top Coat Eclosion' è il prodotto ideale: piccoli pois e pagliuzze color lime e verde menta. Siete pronte ad entrare nel Kingdom della Maison Dior?
EN Its name is 'Kingdom of Colors' the make-up collection by Dior Maison for the spring 2015. Mood of the collection is the 'kingdom' where the color is the protagonist that reigns supreme for Dior.
The real news is without any doubt the polished multipurpose palette 'Kingdom of Colors eye, lip & face' our beauty partner that will follow us for all day long! Why? My dear, inside it you can find everything you need for realizing a perfect make-up: a mattifying powder, an iridescent illuminating, a blush in coral color, four eyeshadows in the colors: white, silver, mint and violet, a black eyeliner, a gloss in coral color and a fuchsia lipstick! Its dimensions are ideal to fit into our bag and we don't have to worry about getting brushes or something else because we find in it four professional brushes!
Dior proposes as well the famous '5 Couleurs Couture Colors & Effect' eyeshadows palette in two combinations of color: 'House of Greens' with salmon, taupe, green olive, sage, dark green colors and 'House of Pinks' with champagne, old rose, fuchsia and plum colors. To complete the make-up for eyes 5 new kohl pens the 'Diorshow Kohl professional' for making sharp stripes or a professional smoky eyes in the color Pearly Silver, Smoky Black, Smoky Blue, Smoky Brown e Smoky Grey (they're gorgeous and let you realize a quick make-up with an incredibly fashion result!).
To dress up our lips there're the 'Rouge Baume' that give hydration and volume in the colors Palais, a nude and Cotillon a red coral and the 'Addict Gloss' for an unique glossy effect, we have Fastes a nice apricot and Mylord a delicate old rose. And… for nails the nail polishes 'Vernis Gel Shine & Long Wear' couldn't miss in two unique colors with a gel effect: Lady a delicate old rose and Glory a nice coral red. If you want to give an original touch to your hands, the 'Top Coat Eclosion' is the ideal product: little pois and straws in lime and mint colors.
Are you ready to go into the Kingdom of Dior Maison?
ES Se llama 'Kingdom of Colors' la colección de maquillaje firmada Dior para la primavera 2015. Mood de la colección es el 'reino' donde a gobernar es el color, protagonista absoluto para Christian Dior.
La verdadera novedad es sin duda la estilosa palette multiuso 'Kingdom of Colors eye, lip & face' nuestra aliada de belleza que nos acompañará para todo el día! Porque? Mis queridas, lleva todo lo necesario para realizar un maquillaje perfecto: un polvo opacificante, un iluminador perlado, un blush coral, cuatro sombras de ojos en blanco, plata, menta y violeta, un eyeliner negro, un gloss coral y un píntalabios fucsia! Sus dimensiones son perfectas para estar en el bolso y no tenemos que preocuparnos de llevar pinceles porque encontramos también cuatro aplicadores profesionales!
Dior propone también las famosas sombras de ojos '5 Couleurs Couture Color & Effect' en dos combinaciones de color: 'House of Greens' con los colores salmón, taupe, verde olivo, salvia, verde oscuro y 'House of Pinks' con los colores champagne, rosa claro, fucsia, marrón y ciruela. Para completar el maquillaje para los ojos 5 nuevos lápices kohl grandes, los 'Diorshow Kohl professional' para hacer líneas perfectas o crear uno smoky eye profesional en los colores Pearly Silver, Smoky Black, Smoky Blue, Smoky Brown y Smoky Green (son fabulosos y permiten de realizar un maquillaje muy rápido desde el resultado increíblemente fashion!).
A vestir los labios tenemos los píntalabios 'Rouge Baume' que donan volumen y hidratan, en los colores Palais un nudo y Cotillón un rojo coral y los 'Addict Gloss' para un efecto glossy inédito, tenemos Fastes un bonito albaricoque y Mylord un rosa antiguo delicado. Y… para las uñas no podían faltar los esmaltes 'Vernis Gel Shine & Long Wear' en dos colores inéditos desde el efecto gel: Lady un rosa polvo delicado y Glory un bonito rojo coral. Si queréis dar un toque original a vuestras manos el 'Top Coat Eclosion' es el producto ideal: pequeños pois y motas color lime y menta.
Estáis listas para entrar en el Reino de la Masón Dior?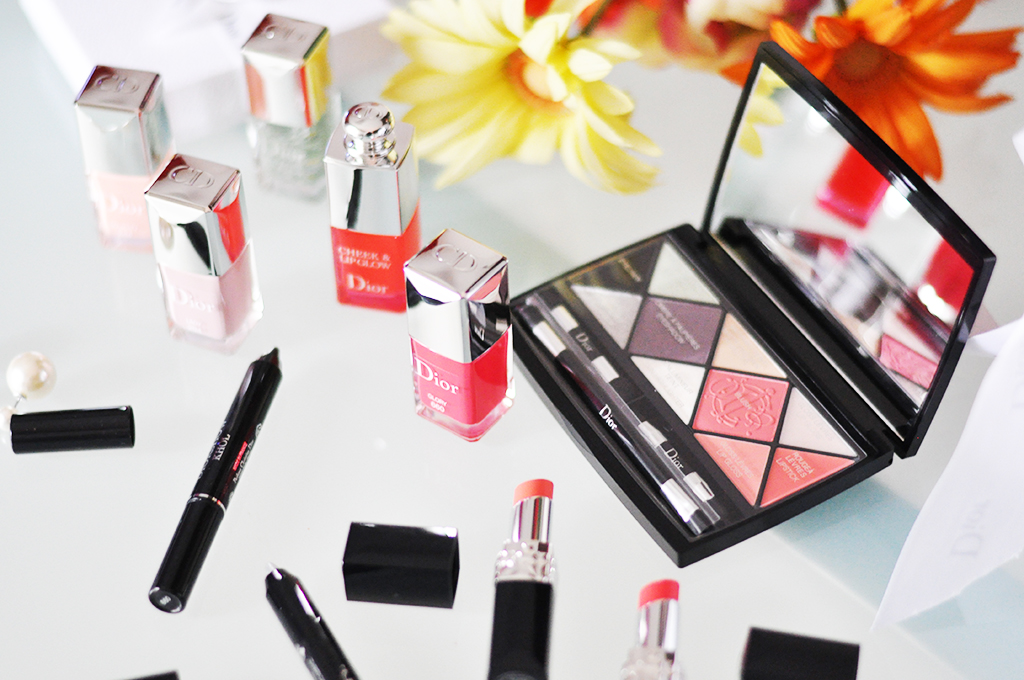 Have you seen the last collection for this winter? Under you'll find some links for you!:
                                            CHANEL MAKE UP AUTUNNO 2014: ETATS POETIQUES
                                                                    PUPA PARIS EXPERIENCE
                                                                  GIVENCHY TEINT COUTURE
                                                         GUERLAIN L'HOMME IDEAL E KISS KISS
                                                                       KIKO DARING GAME
                                                                    Follow my adventures
                                                    Follow me on Instagram => @zagufashion