Longines and Gucci Paris Masters
Buongiorno mie care, pochi giorni fa ho avuto l'onore di partecipare al 'Gucci Paris Masters' la tre giorni di spettacolari esercizi equestri tenutasi al Parc des Expositions a Villepinte vicino a Parigi. Ospiti d'onore Carolina di Hannover e la bella Charlotte Casiraghi che ha partecipato alla gara 'Style & Competition for Amade' un evento benefico in favore di Amade l'Associazione benefica presieduta proprio da Carolina d'Hannover. La gare più belle sono state la 'Battle of the Sexes Longines', una sfida tra 10 amazzoni e 10 cavalieri e la 'Longines Speed Challenge' un'avvincente sfida a tempo cronometrata appunto dalla precisione dei cronometri Longines! L'intero evento, Zaguline, era caratterizzato dall'eleganza, sobrietà unita allo charme che solo Longines è in grado di fare. Pensate che io avevo una vista bellissima perchè mi trovavo nella 'Longines lounge vip'. Che dire poi della cena? Sarebbe un'incredibile 'sviolinata' a Longines che come sempre si distingue dagli altri! Assaporatevi le fotografie che ho scattato e potrete cogliere la magia dell'evento!
EN Good morning my dear, a few days ago I've got the honor to participate at the 'Gucci Paris Masters' the three days competition with gorgeous equestrian exercises at the Parc des Expositions in Villepinte close to Paris. Guests of honor,  Carolina of Hannover and the beautiful Charlotte Casiraghi that has participated to the 'Style & Competition for Amade' challenge, a charity event for Amade the Charity Association presided by Carolina of Hannover. The most beautiful challenges have been the 'Battle of the Sexes Longines', a challenge between 10 amazons and 10 Riders and the 'Longines Speed Challenge' an exiting time trial just clocked by Longines stopwatches! Zaguline, the whole event has been characterized by the elegance, sobriety and charme that only Longines is ables to do. Think about I've got a great view 'cause I was in the 'Longines lounge vip'. What should I say about dinner? It will be an incredible 'blarney' to Longines that as always sets apart from all the others! Taste the pictures I took and you can get the magic of the event!
ES Buenos días mis queridas, hace algunos días he tenido el honor de participar al 'Gucci Paris Masters' la tres días de ejercicios ecuestres espectaculares en el Parc des Expositions en Villepinte cerca de París. Invitados de honor, Carolina de Hannover y la estupenda Charlotte Casiraghi que ha participado a la competición 'Style & Competition for Amade' un evento benéfico en favor de Amade la Asociación benéfica presidida desde la misma Carolina de Hannover. Las competiciones más guai fueron la 'Battle of the Sexes Longines', una competición entre 10 amazonas y 10 caballeros y la 'Longines Speed Challenge' una competición interesante a tiempo registrada por supuesto desde los cronómetros Longines! Todo el evento, Zaguline, era caracterizado desde la elegancia, sobriedad y charme que solo Longines es capaz de hacer. Pensáis que yo tenía un panorama estupendo porque me encontraba en la 'Longines lounge vip'. Que decir de la cena? Seria una increíble 'adulación' para Longines que como siempre se distingue desde los demás! Ahora tenéis que gustarve las fotografías que hice y podríais coger la magia del evento!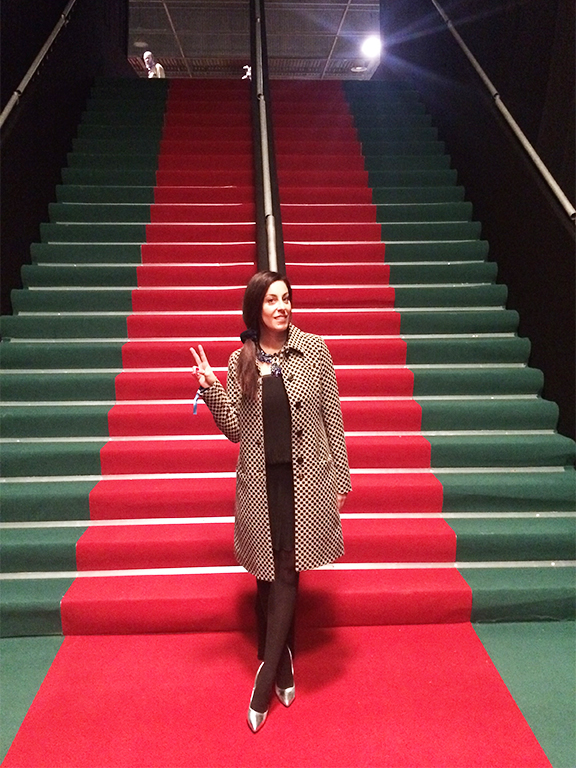 1° Look: Stefanel: Dress | Shoes: I love shoes from Sarenza.it | Necklace: Ottaviani | Bag: Cademartori | Watch: Longines Conquest Sport
2° Look: Dress: Naughtydog | Shoes: Aldo
3° Look: Jeans: Zara | Sweater: Maria Grazia Severi | Shoes: Dr Martens from Sarenza | Shirt: Levi's
Thanks Longines
Credits for Translations Laura Marcora
                                                         With other five minutes you can be interest in:
                                                         VENEZIA 71 RED CARPET CON L'OREAL PARIS
                                                       PRIX DE DIANE LONGINES AND KATE WINSLET
                                                                              MAGNUM 25 YEARS
                                                                           TOD'S EVENT IN PARIS
                                                                LAVAZZA CONQUISTA WIMBLEDON
                                                                              Follow my adventures
                                                             Follow me on Instagram => @zagufashion