Il must-have di stagione, la Cappa!
IT In inglese si dice 'Cape', gli spagnoli e tedeschi la chiamano 'Capa'… Di cosa sto parlando? La Cappa, un capo signorile, aristocratico, misterioso e un po' Rétro che ha una storia antica. Era l'indumento destinato ai 'Bellatores' la classe sociale da cui emerse la nobiltà europea 'di spada'. Direttamente dai mitici anni '20 dove le Signore lo portavano per contraddistinguere il loro ceto sociale, ecco che la Cappa in tutte le sue varianti: mantelle lunghe o corte al ginocchio, con maniche al gomito, dai mille colori, in stile british o un bel caldo tweed, scende dalle più prestigiose passerelle per essere il nostro 'Jolly' nel creare outfit diversi e originali. Brand di lusso come Saint Laurent, Valentino e Burberry hanno fatto dei loro 'Manteaux' il capo protagonista! Se pensate bene Zaguline la Cappa sta bene a tutte perchè ha una linea morbida, nasconde le 'curve di troppo' e ci avvolge in maniera discreta… i capi più adatti per abbinare questo must-have di stagione sono i tubini aderenti, i pantaloni skinny ma anche i vestitini corti con leggings abbinati ad un bel paio di stivali con tacco o no, la valorizzano al massimo! E dopo tutto… Pensate a Cappuccetto Rosso e per tornare ai giorni nostri ad Harry Potter che la indossavano con disinvoltura proprio perchè la Cappa dona quell'allure particolare, chic, di classe e quel tocco di mistero che ci fanno apparire uniche, sofisticate e molto molto alla moda!
EN In italian is called 'Cappa', spanish and german people call it 'Capa'… What I'm talking about? The Cape, an elegant, aristocratic, mysterious and a bit Rétro item that has an antique story. It was the item for the 'Bellatores' the social class from which comes the european aristocracy 'of sword'.
Directly from the 20's where Ladies were used to were it to distinguish themselves by the poorest, here you go the Cape in all its variations: long or short capes, with sleeves 'til the elbow, by all its colors, in british style or warm tweed, comes from the most famous runaways to be our 'Jolly' for creating different and original outfits.
Luxury Brands as Saint Laurent, Valentino and Burberry make their 'Manteaux' the protagonist items! Zaguline, if you think about, the Cape is good for everyone because has a soft line, hides our curves and embraces us in a discreet way… The best clothes to match with this season must-have are the sheath dresses, skinny pants but also short dresses with leggings matched with a nice pair of boots with heels or not, that enhance it to the top!
After all… Think about to Little Red Riding Hood or, for coming back to the present, to Harry Potter that wore it with self-confidence just because the Cape gives that particular allure, it's chic, classy and with that touch of mystery that let us feel unique, sophisticated and very very trendy!
ES En ingles se dice 'Cape', los alemanes la llaman 'Capa', los italianos 'Cappa'… De que estoy hablando? La Capa, una prenda señorial, aristocrática, misteriosa y un poco Rétro que tiene una historia antigua. Era la prenda destinada a los 'Bellatores' la clase social donde llega la nobleza europea 'de espada'.
Directamente desde los míticos años '20 donde las Señoras se las ponían para distinguir su clase social, aquí está la Capa en todas sus variantes: capas largas o cortas a la rodilla, con mangas hasta los codos, desde sus miles colores, en estilo british o un cálido tweed, baja desde los más famosos desfiles para ser nuestro 'Jolly' en el crear outfit diferentes y originales.
Brand de lujo como Saint Laurent, Valentino y Burberry han hecho sus 'Manteaux' la prenda protagonista! Si pensáis bien Zaguline, la Capa esta bien a todas porque tiene una linea suave, esconde las curvas y nos envuelve en manera discreta… Las prendas más adaptas para poner junto a este must-have de temporada son los vestiditos adherentes, los pantalones skinny pero también los vestidos cortos con leggings y botas con tacones o no, la valorizan a lo máximo!
Y después de todo… Pensáis a Capurecita Roja y para llegar hasta hoy, a Harry Potter que se la ponían con desenvoltura porque la Capa dona aquel allure particular, chic, de clase y aquel toque de misterio que nos hace sentir únicas, sofisticadas y muy muy a la moda!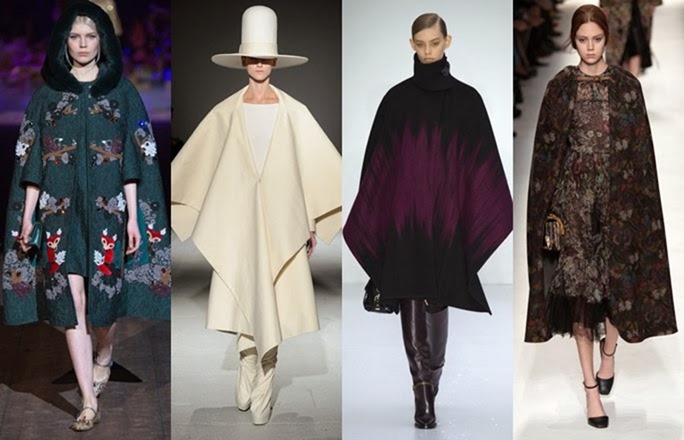 Click here to discover other news:
                                   #MADEBYSARENZA LA NUOVA COLLEZIONE FIRMATA SARENZA
                                                                           CHANEL 5 THE FILM
                                                       DIETOX UN SEGRETO PER RESTARE IN FORMA
                                                       FASHION BLOGGER ECCO LA GIORNATA TIPO
                                                                                 LA FELICITÀ È
                                                                           Follow my adventures
                                                          Follow me on Instagram => @zagufashion