#zaguparty tutta la festa del fashion blogger
IT Si dice spesso che 'quando senti il rumore di zoccoli non bisogna pensare subito che siano cavalli… potrebbe essere anche una zebra' ed io sono voluta andare controcorrente con #ZaguParty perchè di solito siamo noi bloggers ad essere inviate dai Brands per scoprire le loro novità e poterle poi recensire… Io ho voluto semplicemente stare insieme a Voi, passare una serata piacevolmente rilassante facendovi entrare nel mio mondo!L'emozione che ho provato giovedì scorso è stata forte. La fatica per organizzare il compleanno di Zagu Fashion è scomparsa in un baleno… Grazie a Voi! Vi confesso che è stata dura organizzare in così poco tempo #ZaguParty ma ne è valsa la pena. Il tutto è stato possibile grazie a L'Oréal Professionnel che è stato sponsor della serata…La location esclusiva del Byblos mi ha permesso di creare un'atmosfera intima, elegante e di classe con le sale a mia disposizione. Non so voi, ma a me sembrava di essere in un film… Beh, per chi è intervenuto sa benissimo che 'il film di Zagu' è stato trasmesso durante l'evento. L'ho creato per ripercorrere la mia storia come blogger e mostrare gli obbiettivi/sogni realizzati sino ad ora. Per la prima volta poi… Insieme a me avevo il sostegno della mia mamma e del mio Charlie 'in carne ed ossa!' Sono le mie colonne portanti e senza di loro non sarei riuscita a gestire la tensione di questi giorni. E poi che dire? Il raffinato omaggio di L'Oréal Professionnel ha fatto la differenza… Così come le fotografie scattate da Panstudio di Francesco Panunzio che hanno immortalato le emozioni di quella sera e la buonissima torta di Pastichéri è stato il tocco finale. (A proposito… Se volete degustare le loro prelibatezze andate in via Canonica 72 a Milano! E' una pasticceria tutta nuova e pronta a soddisfare ogni vostra richiesta!) Vi ringrazio di cuore per aver partecipato alla mia gioia… Valentina era al settimo cielo ed i responsabili sono stati il vostro affetto e la vostra gioia sinceri!
EN It's often said that 'when you hear hoofbeats you don't have to think immediately about horses… maybe it could be also a zebra' and I wanted to go against the tide with #ZaguParty because usually are the bloggers to be invited by Brands for discovering their news and then can make a review… I've just simply wanted to be with You, for spending a pleasant, relaxing night giving you the opportunity to jump into my world!
The emotion I felt the last thursday was strong. The hustle for organizing the birthday of Zagu Fashion disappeared in a trice… Because of You! I must confess you, it was hard to organize #ZaguParty in a short time but it was totally worth it. The exclusive location of Byblos let me create an intimate, elegant and classy atmosphere thanks to the rooms at my disposal. I don't know you but I felt to be into a movie… Well, for who has participated, knows very well that the 'Zagu movie' has been transmitted during the event. I made it for remembering my story as blogger and for showing my goals/dreams realized 'til now.
And then for the first time… Together with me I've had the support 'in the flesh' of my mummy and my Charlie! They're my power and without them I couldn't manage the tension of these days. What I should I say for more? The polished cadeau of L'Oréal Professionnel has made de difference… as the pictures taken by #Panstudio that have immortalized the emotions of that night and the exquisite cake of Pastichéri has been the final touch. (By the way… If you want to taste their delicacies, go to via Canonica 72 in Milan! It's an all new bakery ready to stastisfy all your needs!) Thanks a lot for your participation to my joy… Valentina was in the seventh Heaven and the responsible have been your sincere love and happiness!
ES Muchas veces se dice 'cuando oyes el rumor de cascos no tienes que pensar enseguida a los caballos… puede ser también una cebra' y yo he querido ir contracorriente con #ZaguParty porque normalmente son las bloggers a ser invitadas desde los Brands para descubrir sus novedades y poder después hacer una recesión sobre esas… Yo he deseado simplemente estar junto a Vos, pasar una velada agradable, relajante os permitiendo de entrar en mi mundo!
La emoción que he probado el pasado jueves fue muy fuerte! El cansancio para organizar el cumpleaños de Zagu Fashion ha desaparecido enseguida… Gracias a Vos! Os tengo que decir que fue muy duro organizar #ZaguParty en poco tiempo pero, ha merecido la pena. La location exclusiva del Byblos me ha permitido de crear una atmósfera intima, elegante y de clase con las salas a mi disposición. Yo no se vosotros, pero me parecía de ser en una peli… Pues, para quien ha venido, sabe perfectamente que el 'film de Zagu' ha sido transmitido durante el evento. Lo he hizo para os contar mi historia como blogger y os mostrar los objetivos/sueños realizados hasta ahora.
Por primera vez… Junto a mi he tenido el apoyo de mi mama y mi Charlie 'en vivo'! Son mi fuerza y sin ellos no lo hubiera logrado de gestionar la tensión de esos días. Que puedo decir más? El caudeau fino de L'Oréal Professionnel hice la diferencia… Así como las fotografías hechas desde #Panstudio que han inmortalizado las emociones de aquella noche y la buenísima tarta de Pastichéri fue el toque final. (A propósito… Si queréis probar sus exquisitez vais en via Canonica 72 en Milán, es una pastelería toda nueva, lista a satisfacer cada vuestra exigencia! ) Gracias de corazón para haber participado a mi felicidad… Valentina era al séptimo cielo y los responsables han sido vuestro cariño y vuestra alegría sinceros!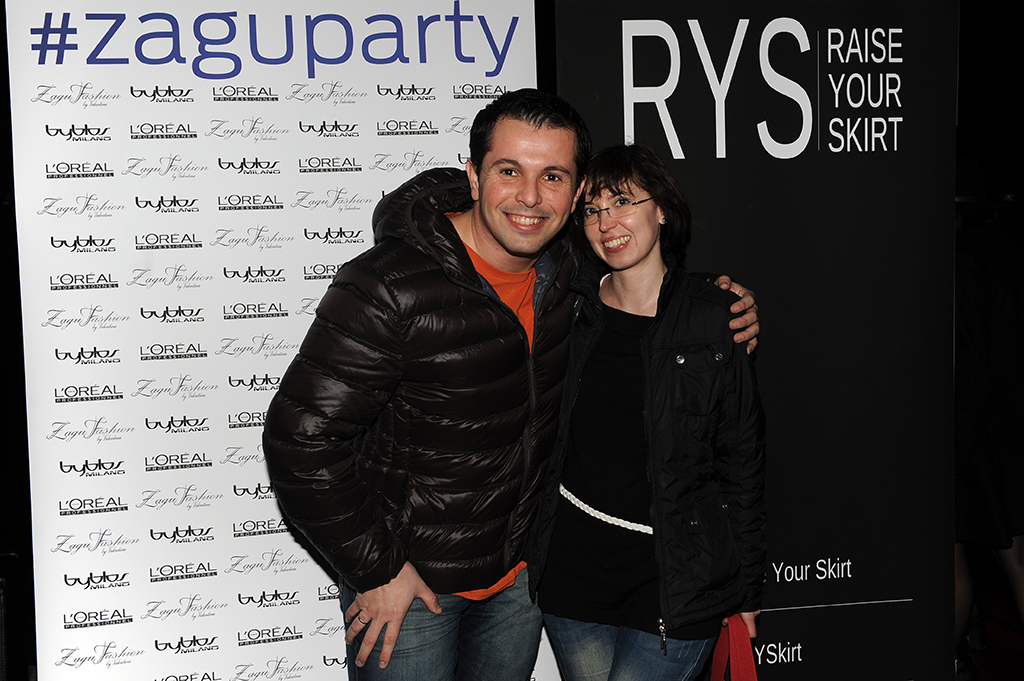 Dress: MillyBy Michelle | Shoes: JessicaBuurman | Cake Design: Pastichéri | Location: Byblos Milano | Sponsor: L'Oréal Professionnel
Credits for Translations Laura Marcora
                                                         With other five minutes you can be interest in:
                                                         VENEZIA 71 RED CARPET CON L'OREAL PARIS
                                                       PRIX DE DIANE LONGINES AND KATE WINSLET
                                                                              MAGNUM 25 YEARS
                                                                           TOD'S EVENT IN PARIS
                                                                LAVAZZA CONQUISTA WIMBLEDON
                                                                              Follow my adventures
                                                             Follow me on Instagram => @zagufashion