We are now at the gates of Christmas and as always trying to make a special gift and original ...........
Today I'll show you some news of some labels so you can make an idea about what you can give !!!!!!!!!!!!
Ormai siamo alle porte del Natale e come sempre si cerca di fare un regalo particolare ed originale........... oggi vi mostrerò delle novità di alcune griffe così vi potete fare un idea su cosa potete regalare!!!!!!!!!!!!
Natale 2010: le eleganti borse da sera di Tiffany & Co.
La maison Tiffany & Co has created a new collection of bags jewelry, Bracelet Bags, the perfect complement to any look, perfect for those who like to be female and jewelry.
An elegant and refined for 2010 put this Christmas are the wonderful evening bags from Tiffany & Co. named Bracelet Bags that combines all the unique style of products known American fashion house of jewelry.
These bags feature a unique neck-cuff that allows you to wear on your wrist like real gems that can make the sole even more simple put.
The brand Tiffany & Co. launches two proposals for the next man and woman Christmas gift, if they are valuable, it is hoped also to be special.
So if you have not yet decided what to ask for a Christmas present to your husband or your boyfriend, I suggest you take a look at Tiffany Bracelet Bags, real jewel bags to show off the most important occasions.
The peculiarity of these bags is that they are valuable with neck-bracelet with lots of small beads of palladium, which allow the bag to carry your wrist like a bracelet.
There are eight colors available at Tiffany & Co. stores at $ 800.
And if your girlfriend or your wife wants to give you strength of the twins, dirottatela on those of Tiffany & Co. blue designed by Elsa Peretti (Bean cuff links) and in red instead designed by Paloma Picasso (Paloma's Groove): the first cost
just over € 750, € 365 seconds.

Because if present must be designer, then we do that is also beautiful gift!
La maison
Tiffany & Co
ha realizzato una nuova collezione di bag gioiello, le
Bracelet Bags
, il complemento perfetto per ogni look, perfetto per coloro che amano essere femminili e i gioielli.
Una soluzione elegante e raffinata per le mise di questo
Natale 2010
sono le splendide
borse da sera
di
Tiffany & Co.
denominate
Bracelet Bags
che racchiudono in se tutto lo stile inconfondibile dei prodotti della nota maison americana di
gioielleria
. Queste
borse
sono caratterizzate da un esclusivo
manico-bracciale
che permette di indossarle al polso come veri
gioielli
capaci di rendere esclusiva anche la mise più semplici.
La griffe
Tiffany & Co.
lancia due proposte donna e uomo per i prossimi regali di
Natale
che, se devono essere preziosi, ci si augura siano anche particolari.
Quindi se ancora non avete deciso cosa chiedere come regalo di Natale a vostro marito o al vostro fidanzato, vi consiglio di dare un'occhiata alle
Bracelet Bags di Tiffany
, vere e proprie borse gioiello da sfoggiare nelle occasioni più importanti.
La particolarità di queste preziosissime borse è che sono dotate di manico-bracciale con tante piccole sferette in palladio che permettono di portare la borsa al polso proprio come fosse un bracciale.
Sono otto le colorazioni disponibili presso i negozi monomarca Tiffany & Co. a 800 dollari.
Se invece la vostra fidanzata o vostra moglie vuole per forza regalarvi dei
gemelli
, dirottatela su quelli di Tiffany & Co. in blu disegnati da Elsa Peretti (
Bean cuff links
) e in rosso disegnati invece da Paloma Picasso (
Paloma's Groove
): i primi costano poco più di 750 euro, i secondi 365 euro.
Perchè se deve essere regalo griffato, allora facciamo che sia anche regalo bello!
Gucci

ha realizzato la nuova Gucci Zoo Collection.
There are a number of very nice keychains as gifts for Christmas (or even in several other occasions).
They depict animals, such as a mouse, a parrot, a cute pig and a whale.
They have the classic GG logo with the press logoed and skin color, were also included to create crystal eyes.
How can I use? May be used in very many ways you can engage them in the bags, put in the keys of the house or car, you can hang them in the mirror, in short, anywhere you want.
Certainly the objects are very nice to give and to use!.
In the second photo (below) we can see a picture that shows more details ..
Sono una serie di
portachiavi
molto carini da regalare per
Natale
(o anche in altre diverse occasioni).
Raffigurano gli animali; come un
topo, un pappagallo, un simpatico maiale e una balena.
Possiedono il
classico logo GG con la stampa logata e della pelle colorata
, inoltre sono stati inseriti dei
cristalli per creare gli occhi.
Come si possono usare?
Si possono usare veramente in tanti modi, li potete agganciare nelle borse, inserire nelle chiavi di casa o dell'auto, li potete appendere sotto lo specchietto, insomma da qualsiasi parte che volete.
Sicuramente sono degli oggetti molto carini da regalare e da usare!.
Nella seconda foto (sotto) possiamo vedere un'immagine che ci mostra meglio i dettagli..
Pomellato DoDo: prezzi e significato dei modelli esclusivi
The collection Pomellato Dodo was founded in 1995 by the desire for home jewelry Pomellato to create a line of modular jewelry to collect and wear.
These jewels are made with a single gram of gold, with a design reminiscent of the shapes of various animals.
The line DoDo is also a manifesto for the protection of nature: in fact, the dodo was a funny bird of Mauritius, became extinct due to indiscriminate hunting and the fact that he could not fly.
That is the mark, since birth, has supported many projects related to WWF Italy.
DoDo's family over the years has become increasingly diverse expanding line of jewelry by adding rings, earrings and bracelets made with various precious materials.
Over the years the family DoDo becomes increasingly diverse, with new animal-symbols and their messages, making it one of the most popular brand of jewelry and expanding line of jewelry.
La collezione Pomellato Dodo nasce nel 1995 dal desiderio della casa orafa Pomellato di creare una linea di gioielli componibili da collezionare e indossare. Questi gioielli sono realizzati con un solo grammo d'oro, con un design che ricorda le forme di vari animali. La linea DoDo è anche un manifesto per la tutela della natura: infatti, il dodo era un buffo uccello di Mauritius, estintosi a causa della caccia indiscriminata e del fatto che non sapeva volare. Per questo il marchio, fin dalla nascita, ha sostenuto molti progetti legati al WWF Italia. La famiglia DoDo nel corso degli anni è diventata sempre più varia allargando la linea di gioielli aggiungendo anelli, orecchini e bracciali realizzati con diversi materiali preziosi.
Nel corso degli anni la famiglia DoDo diventa sempre più varia, con nuovi animali-simbolo e i loro messaggi, diventando uno dei brand di gioielleria più amati e allargando la linea dei gioielli.
Ciondoli componibili
DoDo The collection, created by the goldsmith's house Pomellato, is a modular line of jewelry: from a bracelet or necklace from a base, you can add nuggets and grains (beads and faceted cylinder) is available in gold or silver and inserting your favorite animals
.
DoDo The pendants come in different shapes of animals, each of which holds a special significance.
For example, the butterfly means "I love freedom," the chick "Hold" the penguin "is madly in love," the hippopotamus "I want a mountain of good," the turtle "together we will go away" and so on.
These pendants are available in three sizes: small (at a cost of 99 €), medium (150 €) and large (215 €).
La collezione
DoDo
, creata dalla casa orafa
Pomellato
, è una linea di
gioielli
componibili: partendo da un
bracciale
o da una
collana
base, si possono aggiungere pepite e granelli (sfere e cilindri sfaccettati) disponibili in
oro
o
argento
ed inserendo i vostri animali preferiti.
I ciondoli DoDo sono disponibili in diverse forme di animali, ognuno dei quali racchiude un significato particolare
. Ad esempio la farfalla significa "amo la libertà", il pulcino "stringimi", il pinguino "sono innamorato pazzo", l'ippopotamo "ti voglio una montagna di bene", la tartaruga marina "insieme andremo lontano" e così via. Questi ciondoli sono disponibili in tre diverse dimensioni: piccolo (al costo di
99 euro
), medio (
150 euro
) e grande (
215 euro
).
Collaborazioni importanti
The brand Pomellato DoDo works since its inception with the WWF to help endangered species like turtles, hawks, doves, dolphins and pandas.
Last June, in celebration of 15th anniversary of his birth, the brand launched a new pendant inspired by its famous symbol of the international association: the panda.
The panda DoDo was made of white gold and covered with white diamonds and blacks, the first pendant black and white logo, which means "you are a rare species."
This beautiful panda is priced at around 770 €.
Il marchio
Pomellato DoDo
collabora fin dalla sua nascita con il
WWF
per aiutare specie a rischio di estinzione come tartarughe, falchi, rondini, delfini e panda. Lo scorso giugno,
in occasione della celebrazione del 15° anniversario della sua nascita
, il marchio ha lanciato un nuovo
ciondolo
che si ispira proprio al simbolo della famosa associazione internazionale: il panda. Il
panda DoDo
è stato realizzato in
oro bianco
e ricoperto da
diamanti
bianchi e neri, il primo ciondolo bianco e nero del marchio, il cui significato è "sei una specie rara". Questo bellissimo panda è disponibile al
prezzo
di circa
770 euro
.
Ready to celebrate the scariest night of the year, that of Halloween?
We want to wish signaling a fabulous new dedicated just to this party but can easily be worn all year round.
This is the new Pomellato pendant, shaped like a bat: the perfect pet to celebrate the holiday of witches and ghosts.
The line of Pomellato Dodo is thus enriched with a new proposal, perfect for those who love the world of darkness, but above all the deep meanings of these precious animals so much loved.
Of course you already know the line Pomellato dedicated to the younger: Dodo in fact offers many new and fancy jewelry like rings, charms, bracelets and necklaces.
The fans of the brand collect them and take them to dozens of bracelets and necklaces.
Like many other charms of Pomellato, even the bat-shaped pendant is available in yellow gold but also in a great version with diamonds blacks and whites.
H I personally do not doubt and I think the best for this event is undoubtedly the pendant with diamonds blacks.
To celebrate Halloween, but not all: these beautiful pendants are also perfect to be worn all year round, even by women who are afraid of these animals.
We bet that when the version you will receive a gift with your diamonds will terror?
Very original idea but also valuable to celebrate an anniversary but also to be worn at all times.
What do you think?
Do you like the new proposal of Pomellato Dodo?
Pronte a festeggiare la notte più paurosa dell'anno, ovvero quella di
Halloween
? Noi vi vogliamo fare gli auguri segnalandovi una favolosa novità dedicata proprio a questa festa ma che può essere indossata senza problemi tutto l'anno. Si tratta del nuovissimo ciondolo di
Pomellato
, a forma di
pipistrello
: l'animale perfetto per celebrare la festa delle streghe e dei fantasmi.
La linea Dodo di Pomellato
si arricchisce così di una nuova proposta, perfette per tutti coloro che amano il mondo delle tenebre ma soprattutto i profondi
significati
di questi preziosi animaletti così tanto amati.
Certamente conoscerete già la linea di Pomellato dedicata alle più giovani: Dodo infatti propone tantissime novità e gioielli sfiziosi come anelli, charms, braccialetti e collane. Le fans del marchio li collezionano e ne portano a decine su braccialetti e collane.
Come tanti altri charms di Pomellato, anche il ciondolo a forma di pipistrello è disponibile in oro giallo ma anche in una favolosa
versione con pavè di diamanti neri e bianchi.
Personalmente non h dubbi e credo che il più adatto a questa ricorrenza sia senza dubbio il ciondolo con diamanti neri.
Per celebrare la festa di Halloween ma non solo: questi bellissimi ciondoli sono anche perfetti per essere indossati tutto l'anno, anche dalle donne che hanno paura di questi animaletti. Scommettiamo che quando riceverete in regalo la versione con diamanti il vostro terrore passerà?
Un'idea davvero originale ma anche preziosa per festeggiare una ricorrenza ma anche per essere indossati in ogni occasione. Cosa ne pensate? Vi piace la nuova proposta di Dodo di Pomellato?
From 29 November 2010 in the Serbian knob has a fantastic collection that is proposed as a valuable idea for a Christmas to remember.
It is called Lightning Strike and on the website from now you can find a video preview starring Tilda Swinton, directed by Luca Guadagnino.
Dal 29 November 2010
Pomellato
ha in serbo una fantastica collezione che si propone come preziosa idea per un regalo di Natale indimenticabile.
Si chiama Colpo di Fulmine e sul sito potete sin da ora trovare una video-anticipazione con protagonista
Tilda Swinton
per la regia di Luca Guadagnino.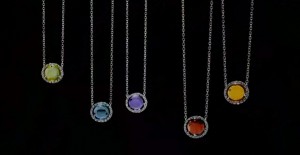 This is how you see the preview images of a collection made of amethyst, peridot, garnet, blue topaz, fire opal surrounded by diamonds ..
Rings and pendants with these bright colors, flashy jewelry are unique and vital and indispensable ...
How about sending him to your suggestion for this Christmas?
Si tratta come vedete dalle immagini in anteprima di una collezione fatta di ametista, peridoto, granato, topazio azzurro, opale di fuoco contornate da brillanti..
Anelli e pendenti con questi colori forti, sgargianti e vitali sono gioielli unici e irrinunciabili…
Che ne dici di mandare al tuo lui un suggerimento per questo Natale?